A quick one today – as I'm short on time. I just saw a lovely, quirky, fun movie and wanted to dedicate this week's Monday's Muse to it.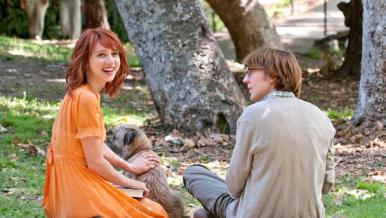 It's doubly relevant because not only is its creativity an inspiration in itself, but the subject matter couldn't be more appropriate. So this week's Muse, I hail thee:
'Ruby Sparks'… and your celebration of the magic of fiction.
The plot was clever and refreshing. (Inspirational tick number one.) Calvin is a 29-year-old introvert who produced a genius book at age 19 and has been trying to live up to himself ever since. Struggling with writer's block, he invents Ruby Sparks – the fictional girl of his dreams.
When Ruby magically comes to life, Calvin finds himself living a fairytale. Ruby is everything he's ever wanted… Until she begins to act like a real, independent person and he has to decide what he really wants out of love, and life. 
I loved the originality of this concept, and it was beautifully executed. (I'm not alone in thinking this. The ABC's Margaret and David gave it 4 stars apiece, here.) 
But I was especially inspired by the way this film took the concept of characterisation to its (il)logical conclusion. We've all heard the notion of a great character coming not from the writer, but through them. Ruby Sparks takes this literally. Brilliant. 
Some, like Sydney Morning Herald critic Sandra Hall, have criticised the film for switching gears too abruptly. (Read her review here.) I personally didn't find this a problem but even if I had, I'd still give this film a big thumb's up for Museworthiness. 
In other news, my review of Hilary Mantel's Bring up the Bodies is very near. And after that I'll be reviewing Into That Forest – the latest offering by the prolific and talented Aussie writer Louis Nowra. Till then! 
~DF
Share this post: