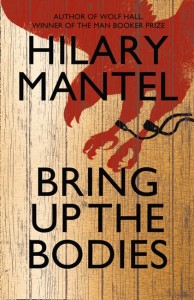 Vital stats:
Author: Hilary Mantel
Publisher: HarperCollins Publishers
Format: Paperback
RRP: $32.99 (AUD)
My rating





The story:
Bring up the Bodies is the sequel to Mantel's Booker Prize-winning novel Wolf Hall. It follows the continued rise of the career of Thomas Cromwell, chief minister to the charismatic and changeable King Henry VIII.
It's 1535 and Henry is three years into his marriage to Anne Boleyn – for whom he broke with Catholicism so he could divorce his first wife Katherine. Anne has failed to produce a male heir and Cromwell sees Henry's affections shift to meek, virginal Jane Seymour.
So begins the infamous deconstruction of Anne's reign as Queen, through which Cromwell must negotiate not only the treacherous undercurrents of the court, but the rocky footholds of the King's ever-changeable pleasure.
How I liked it:
It's been three years since I read Wolf Hall, and while I'm hazy on particulars I remember it had me hooked from the very beginning; notwithstanding its impressive (for some, offputting) length.
By contrast, Bring Up The Bodies was slow to start. I found the first 80-odd pages worthy without being engaging.
The prose was beautifully crafted; the limits of the English language tested and teased. But this alone could not sustain my interest. Things were happening but action was lacking. Perhaps it was the constant returning to the past, the long stretches of Cromwell's memory and inner monologue, that I found tedious. Perhaps simply the parade of numerous new characters (or characters I did not well recall), in the novel's opening  pages.
In the face of this, the length of the chapters (70 pages for Chapter 2) became discouraging. I even began to feel that the literary techniques I had so admired in Wolf Hall – the ultra-close third person perspective Mantel achieves by using 'he' instead of 'Cromwell', for example – weren't so wonderful anymore and, in some cases, were actively slowing the narrative down.
Fortunately, it was worth pushing through. From the point where Cromwell visits the former Queen, Katherine of Aragon, around page 83, I found it difficult to put the novel aside. I suddenly cared about the characters. And the prose – still deftly crafted – was suddenly alive to boot.
Mantel's imagery is refreshingly cliche-free; the picture she weaves is rich and vivid. I've paid tribute to some of her choicest phrases here. But in truth, images like these decorate every page; even every paragraph. Mantel's skill lies in her ability to sustain language of this level without it feeling forced or pretentious.
The character of Cromwell was intriguing in Wolf Hall and doesn't disappoint here. He engineers some fearful, terrible events in English history, yet Mantel has created a three-dimensional, likeable, believable character which creates a delightful disconnect in the reader. Though we feel uneasy about it, we find ourselves rooting for him. The feelings and motives that take him down the road of Anne Boleyn's undoing are natural, comprehensible; surprisingly, even admirable.
Meanwhile, Cromwell's awareness of the lion's den in which he plays creates a razor sharp tension Mantel sustains admirably. And it's rendered all the sharper because of course it's no spoiler to say that Cromwell, too, must come undone in the future. The history books tell us so.
I did find myself wondering at the swiftness with which Mantel covers the executions of Anne Boleyn's accused lovers. There was an aloofness and gloss to these events at odds with the strung out, gory coverage they receive in other accounts. (The Tudors TV series for example). I suspect this was a deliberate decision by Mantel; a deliberate contrast to her lengthy exploration of Anne's unravelling.
And while it may seem strange, it's fitting when you think about it. This is not a story about Anne and her friends, after all. It's a story about Cromwell. It's not about the end, but about the process. The seemingly impossible task set him – to bring Anne down after raising her high. His machinations; the way he justifies it to himself. These are the things Mantel concentrates on, and in a way that makes the reality of the others' fates even starker without her needing to dwell on it.
For what it's worth, I don't think Bring up the Bodies warrants Mantel a second Booker – only because while the novel is excellent, I thought it no more excellent than Wolf Hall, and less original because in many ways it simply continues that novel's theme. If the Booker's aim (as professed by chair Sir Peter Stothard, here) is to renew the English language, surely some totally original offering should win it this year. We'll see…
(There were plenty of other things Stothard says in that interview with which I strongly disagree. More on that here if you're interested.)
Bring Up The Bodies IS, however, a skilful, engaging transformation of an enigmatic historical entity into a real person we can feel with and for. And it doesn't hurt that history has provided him with a backdrop that's one helluva page turner.
~DF
EDIT: You can also read this review on Pages & Pages Booksellers' reader blog 'Fan the Pages', right here. Thanks to Jon Page for posting it!
Share this post: