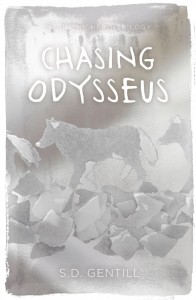 The Stats
Book: Chasing Odysseus by S.D. Gentill
Published: Pantera Press, 2011
Genre: YA Adventure
The Plot
The Ancient Greeks have vanquished the city of Troy, and they're blaming the peace-loving Herdsmen of Mount Ida for helping them.
The Herdsman brothers Machaon, Cadmus and Lycon, and their little half-Amazon sister Hero, are outraged. Certain the cunning Odysseus is behind it all, they set off to chase him down and clear their people's name.
My Verdict
A fresh, fun take on the famous tale of Odysseus' 10 year round-the-world trip following the fall of Troy.
Review
This book was a lot of fun. Gentill takes Homer's Odyssey and turns it on its head, retelling it from the viewpoint of the three boisterous and likeable Herdsman brothers and the fierce and loyal Hero. Seen in this light, Odysseus the heroic king – who suffered 10 years to return to his people and his beloved wife Penelope – is recast as Odysseus the war lord, ruled by vanity and cruelty, whose 'glorious' adventures are anything but.
If you know the myths well, it is delightful to see how Gentill picks up well-known threads and weaves them in different colours. If you haven't read the Odyssey, no matter. It's still a cracking stand-alone story, and Gentill includes little snippets of the original tale at the end of each chapter, by which the differences between Odysseus' version and the Herdsmen's (the 'truth') are made clear.
Stylistically, the writing is vivid and pacy, with some nice turns of phrase. Gentill manages to keep the tone feeling 'modern', while remaining true to the tenor and tone of Homer's epic poem. This is an especially welcome touch, as the book targets the Young Adult market but does not talk down to its young readers. Instead, it is bound to kindle (or feed) their interest in the ancient myths. And although it is marketed as YA, I found it enjoyable as a 'grown up' too!
It's also part of a series, so those who have grown attached to Mac, Cad, Ly and Hero need not part with them for long!
~DF
Share this post: