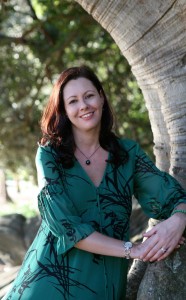 Welcome to my first (written form of) "In the Hotseat" – where I pose 10 quick questions to authors, publishers and other bookish types for their immediate, off-the-cuff responses. I mean sure, it's great to know what they're reading, what they're writing etc… but you really want to know whether they chew their pencil and what their vices are, right?? So step right up and find out here!
First, a word about Kate Forsyth…
Kate's the bestselling, award-winning author of more than 20 books for adults and children, and of course her latest is the dark, sensual retelling of the Rapunzel fairytale, Bitter Greens. My review of that is here, and you can read my (proper) interview with Kate just here. The Twittersphere tells me she's also just finished writing her next book, The Wild Girl – about Dortchen Wild, the girl who told Wilhelm Grimm some of the most powerful fairytales. So look out for that one! She's got a BA in Literature and an MA in Creative Writing, and is doing a doctorate in fairytale retellings at the University of Technology, Sydney at the moment, so it's bound to be good!
Now for the questions!
Are you right or left handed?
Right.
If you couldn't be a writer you'd be …?
Very unhappy.
Thunderstorms – scary or exciting?
Exciting.
Black or white in chess?
White.
What first comes to mind when you think of writing?
Joy.
What human quality do you most distrust?
Malice.
Do you chew your pencil?
Yes, when I'm writing with one. And since I usually write straight into my computer, it means I chew my little finger instead. It is quite damp and red right now.
When's your favourite time to write?
Anytime.
Are you superstitious?
Yes, I am, in my own strange way. Black cats don't bother me (I have one), but I always wish on the first star, throw spilled salt over my left shoulder, and think that great shaft of light that sometimes pours through a storm cloud an omen of good fortune coming my way.
What word or phrase do you overuse?
"Her heart hammered."
Liked that? You might like my audio version of the same thing with Australian author Honey Brown. Check it out here!
And don't forget, if you're an author, publisher, literary agent, bookseller, book blogger or anything else that sounds remotely similar and would like to be in the Hotseat yourself – click here to let me know.
Stay dry everyone!
~ DF
Share this post: